17-Jul-2019
admin
Not Available
8th UNWTO International Meeting on Silk Road Tourism Participation
From October 10th to October 12th, took place in Thessaloniki, Greece, the 8th edition of the International Meeting on Silk Road Tourism organized by the World Tourism Organization, the Ministry of Tourism of Greece and the Region of Central Macedonia.
A number of ministers, as well as members of the World Tourism Organization, met to discuss global tourism issues and opportunities.
Particularly interested by the international questions that dwell upon this subject, PREMIUM CONCEPT was present to meet representatives from governments and corporations. Our firm was eager to discuss and offer advice on opportunities at an international level and strategy development for both the public and private sector. Through these interactions, our vision on the issue became sharper and our ambition is to be able to advise on how the public and private sector can join forces and work together.
Sneak preview photos from the event below: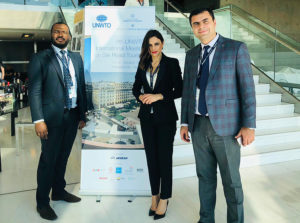 Left to right, Mr Aubin Ngongo, Premium Concept's Private Public Sector Partnership Consultant, Mrs Dionysia Leolei, Head of Advisory Premium Concept and Mr Artur Khachatryan, PhD, 1st Deputy Chair, Ministry of Economic Development and Investments of the Republic of Armenia Tourism Committee.
Below (left to right) : A discussion with Mr. Andrew Aley, Head, Experience Business – Europe, Middle East and Africa (EMEA), TripAdvisor (1); A Ministerial Roundtable (2) ; A Dinner with representatives of World Bank, Earth TV, UNWTO and others (3).