17-Jul-2019
admin
Not Available
NATO Runs Together
This is the international news of the month! Tomorow, the 29th of September, NATO will celebrate HeforShe with a run organised in NATO Headquarters. Under the presence of the Secretary General and the patronage of the Deputy Director General, the run takes this year unprecedented proportions and PREMIUM CONCEPT is really proud to organise this event, though this moment, we share with NATO the human values ​​essential to building a more pleasant future society.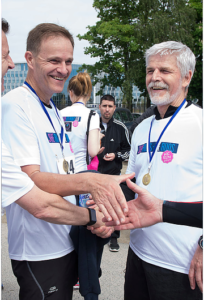 As for the two previous editions, the purpose through this moment is to promote diversity and parity. Through running and competition, then by celebration and fraternity, everyone from NATO is invited to stand for gender equality. HeforShe is a solidarity campaign launched in 2014 by the UN who fights against inequalities between the sexes. With more than one billion three hundred million shares launched since its creation, the organization is not at its first attempt. This run is, therefore, the opportunity for NATO to express its support and investment in the fight for diversity and parity.
At his side, you are all invited to rise and to stand with those of all kinds in an immense solidarity chain, united, determined to rise for the cause of the century: set up for the equality of all humanity.
PREMIUM CONCEPT is proud to announce that there will be two runs. The shortest will be for children. They will be able to compete on a run of 1 km. Following last year's edition, we can predict a touching moment with about fifty participants. The second run is the adult run can take place both individually and in mixed gender team of 2 to 4.
Indeed, in tribute to the first resolution of the Security Council that promotes action for women's rights, this run will be 13.25 long, in reference to the 1325 resolution, therefore. These festivities will face both nationalities and individualities, since from the diplomat to the secretary through the military; all are expected on the starting line. The winners will receive awards from the national delegations whose sponsoring the event.
What we share is more powerful than what divides us.