17-Jul-2019
admin
Not Available
Premium concept takes vital part in discussions for Sierra Leone tourism sector future
Premium Concept held a working session with the Sierra Leone Ministry of Tourism and introduced them with the representatives of a leading British global travel company, at one of the key travel and tourism trade shows in France held annually at the Paris Expo Porte de Versailles on 3rd October.
The 4-day event was attended by 30,929 industry professionals, demonstrating the vitality and energy that characterise the travel and tourism industry.
France has been Sierra Leone's top market in tourism in the early 80's and 90's pointing out. The participation of the Ministry of Tourism and Cultural Affairs made the steps to a big relaunch for the French market.
His Honorable Minister of Tourism Memunatu Pratt, shared Sierra Leone's investment opportunities with international journalists
"We want to build confidence and to assure the world that Sierra Leone is ready once more to attract tourists from the French Market."
While demonstrating the hidden treasures of Sierra Leone, Madam Pratt highlighted the need to take advantage of the endless opportunities that the country is blessed with.
The two parties continue conversations in the World Travel Market London where their representatives are currently reviewing further opportunities.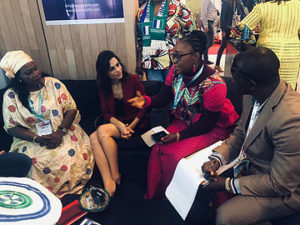 In the meeting in Paris together with our team were also the Permanent Secretary in the Ministry of Tourism Tampa Gbetuwa, Director of Tourism Mohamed Jalloh, General Manager National Tourist Board Fatmata Abe-Osagie, Alieya A Kargbo of Tourism is Life, Miss Sierra Leone 2018 Sarah Laura Tucker and the representative of Thomas Cook Mr. Stephane Joly.
We proudly share these dear to us moments on the pictures (from the discussions in IFTM Top Resa Paris) and a video (from the recent presence of Sierra Leone to the World Travel Market London below).